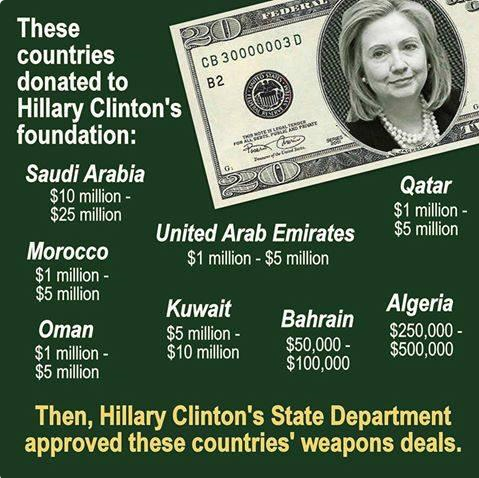 Hillary Clinton served as Secretary of State from 2009 to 2013 under President Obama. That was five years of selling out US Interests to foreign governments in exchange for donations to the Clinton Foundation.
According to the Government's own Website:
"As the lead U.S. foreign affairs agency, the U.S. Department of State represents the United States at more than 270 diplomatic locations around the world, including embassies, consulates, and missions to international organizations.
The Secretary of State, the ranking member of the Cabinet and fourth in line of presidential succession, is the President's principal advisor on foreign policy and the person chiefly responsible for representing the United States abroad. The primary goal of the Secretary of State and the U.S. Department of State is to shape a freer, more secure, and more prosperous world through formulating and implementing the President's foreign policy, while supporting and protecting American interests abroad.
Note that part about American Interests. The site continues:
"It is a source of support for American businesses abroad, working to achieve fair business practices in commerce, trade, manufacturing and other interests—while also identifying viable opportunities for American businesses.
Contributions, either directly, or indirectly to Clinton's Foundation are more than a "Conflict of Interest". Since her job description was to specifically protect US interests, any remuneration could be prosecuted under the Espionage Act of 1917. In the words of Woodrow Wilson:
"There are citizens of the United States, … who have poured the poison of disloyalty into the very arteries of our national life; who have sought to bring the authority and good name of our Government into contempt, to destroy our industries wherever they thought it effective … to strike at them, and to debase our politics to the uses of foreign intrigue …
They have formed plots to destroy property, they have entered into conspiracies against the neutrality of the Government, they have sought to pry into every confidential transaction of the Government in order to serve interests alien to our own."
Selling State Secrets is the very definition of Espionage. However, don't expect the Globalists in the media and government to prosecute Hillary Clinton anytime soon… it seems that Treason is below her pay grade.